With many of us spending more time than ever at home, and with warmer weather fast approaching, lots of us are finding a newfound passion in our very own backyard – gardening!
A hobby that anyone from your child to your grandparents can get involved in, gardening gifts are perfect for summer birthdays.
If you're new to browsing for the best gifts for gardeners, it can be tricky to navigate all of the websites, brands, and products.
So, to give you a hand we've broken it down into what we think are some of the best for the gardener in your life, whether they're just starting out or they're an enviable professional.
Multi-tool
Wolf-Garten
Wolf-Garten is known for their innovative garden supplies, which is why they're such a good investment. Their patented Interlocken® system means that you can buy a handle (in varying sizes, depending on your preference and the job you need to do), and a variety of heads that click onto it seamlessly.
You no longer have to figure out how to keep a wide range of different tools neatly packaged in your shed – you only need one handle and the range of heads that they offer on their website.
Just clip the head onto the handle, and you're good to go! Their brand turns your gardening supplies into a handy multi-tool, and you get to pick and choose which specific tools to use.
The heads vary in price accordingly, so you'll have to do some browsing through their great selection to find the perfect items, but it's worth it for the fantastic quality and ease of use.
Even better, certain tools like their trowel and flower fork can be used by hand for greater control, or they can be attached to one of the longer handles, depending on your preference.
Wold-Garten puts the control and decisions entirely in your hands!
---
Kikkerland Multi Tool
For anyone who's tired of fishing through their tools whenever they're about to step outside, this Kikkerland multi-tool is a neat, pocket-sized solution.
While at first glance, it just looks like a handy pocket pruner (which is useful in its own right!), this is actually a 12 in 1 multi-tool, including a saw, file, and bottle opener.
This is perfect for anyone who doesn't want to carry a lot of tools around with them when they work in the garden and fits into your pocket for convenience.
Also, check out my reviews of gardening tools.
---
Watering Can
Haws
If you ask anyone what one of the most important tools for a gardener is, most of them will probably tell you 'a watering can,' which is why finding the right one is so important.
Luckily, Haws, renowned for its fantastic design in watering cans for years, has this brilliant one for sale.
This plastic design is durable without the uncomfortable weight of some of the metal models on the market.
Built with quality and ease in mind, this watering can boasts a long spout – perfect for watering those hard-to-reach plants at the back of your garden.
The rose is built to give a fine, an almost rain-like watering effect that ensures young plants won't be damaged by a heavy stream, making it less likely that you over water your precious plants.
---
IMEEA
For anyone keeping a collection of indoor plants, the Haws watering may be too big and bulky for your purpose.
This IMEEA watering can, in a sleek metal design, might just be perfect, though. With a 450ml capacity, this watering can is the perfect size to keep around the house for the succulents on your shelf or the plants on your desk.
The minimalist design makes it neutral without being boring, meaning it's a fantastic option, no matter your indoor décor.
---
Seeds
With the summer warmth quickly approaching, many of us are looking forward to seeing a beautiful selection of butterflies in our gardens.
This Certified Organic Yellow Crookneck Summer Squash from Seeds of Change is perfect for any beginner gardener who's looking to brighten up their garden and encourage butterflies and bees.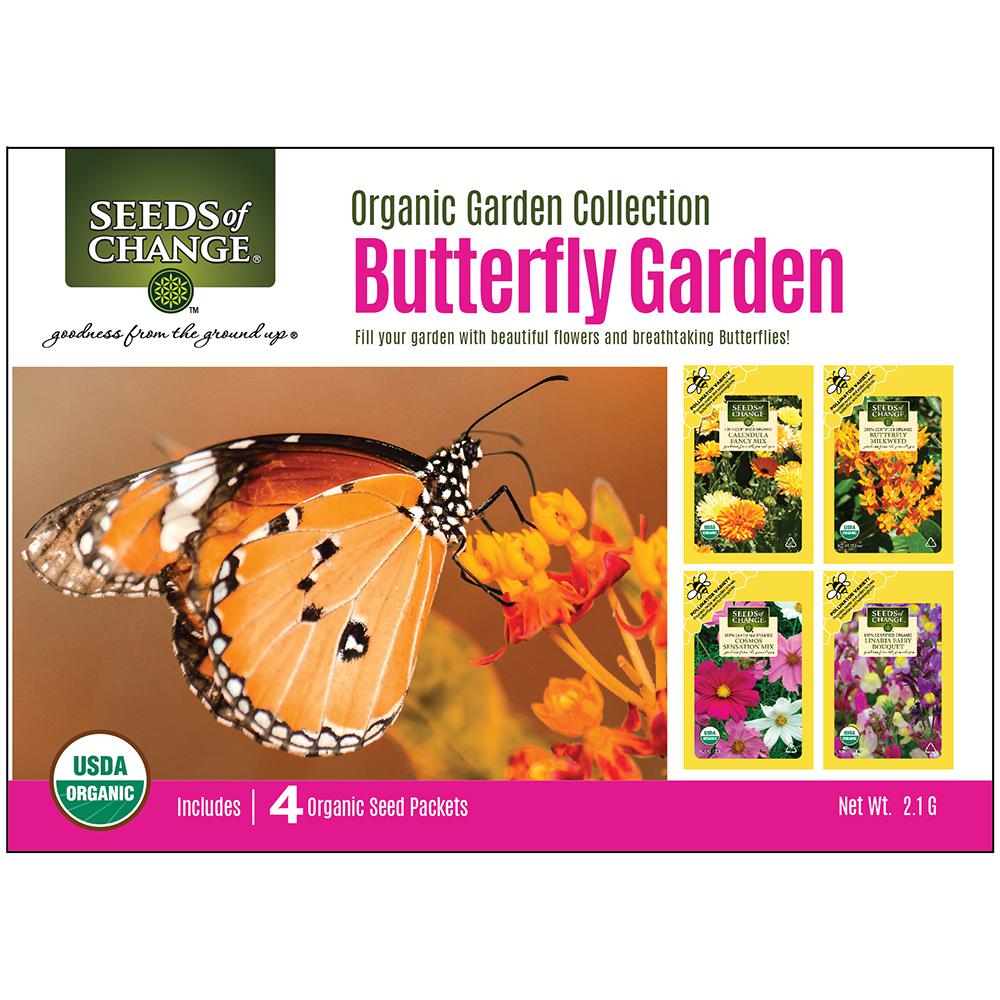 This four-pack of seeds provides gardeners with Calendulas, Butterfly Milkweed, Cosmos Sensations, and Linaria Fairy Flowers.
With a bright array of blooms, this selection is sure to attract beneficial insects and pollinators to your garden!
---
Fertilizer Spikes
In order to keep plants at their healthiest and best looking, fertilizer spikes like these from Jobe's Organics are a must-have.
In-ground feeding has been found to be the most effective way of delivering all the necessary nutrients for strong, healthy plants.
Jobe's have a great selection of in-ground fertilizer spikes, with one for almost every kind of plant you can find in your garden, which may be a better option for a more experienced gardener.
For those of you who are just getting started, though, these all-purpose fertilizer sticks are perfect and durable.
They're a great choice to pick up and add to your collection of tools in the garden, to keep your plants thriving.
---
Gloves
One of the worst parts of gardening (for me, at least) is inevitably getting a rose thorn stuck in my hand, or pricking my finger on a sharp cactus spine.
Luckily, these gauntlet style gloves from Euphoria offer fantastic protection when you're gardening!
Designed specifically for the gardener who works with thorny plants, these gloves offer up much-needed protection all the way up to your forearms, and as an added bonus, their sleek leather design looks great!
---
Utility Apron
For anyone who decides against a multitool and has a lot of gardening tools to carry around with them on the go, this apron from BOJECHER is the perfect solution.
Not only will it keep your clothes from getting ripped, torn, or dirty, but this utility apron also comes with 14 pockets, perfect for carrying seeds, tools, or your phone when you're working outside.
It's adjustable to fit men and women and durable to prevent damage.
---
Kiehls' Hand Cream
Gardening can be tough work on your hands, especially if you're spending all day pulling out weeds or handling a shovel.
To soothe your green thumb (and your other fingers), the Kiehls Ultimate Strength Hand Salve blends avocado, sesame, and eucalyptus oil, resulting in a luxurious cream that keeps your hands baby-soft, no matter how much work you're putting in in the garden.
The hand cream comes in two sizes – 2.5 fl. Oz. and 5 fl. oz.
---
Potting Station
For the gardener in your life who needs a space to organize their pots, plants, and seeds, this staple potting bench from Amazon will be the perfect gift.
Made of Chinese Fir Wood, this sturdy potting station boasts shelving units, a drawer to keep your seeds and necessary accessories organized, and a shelf to show off some of your newly potted plants.
This potting station also includes a handy basin, to make sure your tools and pots stay clean and provide a no-mess station to repot your plants.
The dimensions of this potting bench are 48.75 in.  x 20.5 in.  x 9.0 in., and it's lightweight enough that you can easily move it around your garden as needed.
---
Planters
Tabletop planters
Coming in three gorgeous colors, these tabletop planters add a splash of color to any room you put them in.
These indoor planters are perfect for the all-year-round gardener who loves to tend to their garden whatever the weather, bringing a little of your garden into the home.
Given their portability, they're perfect for any plant-lovers living in apartments, like a personal mini-garden!
These planters can be bought alone or as a trio from Amazon. The small size has a diameter of 14cm and a height of 15cm, while the larger planter has a diameter of 15cm and a height of 19cm.
---
Window planter
Another great option for those with minimal (or no) garden space available – this beautifully crafted window planter!
Made from sustainably sourced Costa Rican teak, this window box comes in three lengths – 30 inches, 46 inches, and 48 inches.
The minimalist, sleek design ensures that it will go well with any décor already present, providing you with easy access to any flowers or herbs you want to plant.
---
AeroGarden Planter
Gardening and cooking are two skills that are virtually inseparable, and one of the most integral parts to any meal is the herbs needed to season it properly.
Fresh herbs can be an expensive luxury, though, especially if they're out of season, so for a fantastic cheap alternative, a packet of seeds and some soil are a great option for many.
Unfortunately, getting the conditions necessary to grow the perfect herbs all year long is almost impossible.
That's why this Aerogarden harvest pod from Amazon is so perfect. This ingenious planter sits on your kitchen countertop and simulates the perfect environment for seeds – sunlight, oxygen, and hydration.
With a soil-free design, you can put it in your kitchen without fear of getting soil everywhere.
The Aerogarden even comes with 6 seed packets to help you get started cultivating your own private herb garden from the comfort of your own kitchen.
---
Vertical garden
If you're stuck for space, but can't get enough of gardening, this vertical garden is the perfect solution.
Coming in a neutral color that looks great anywhere, this planter stands at 26 inches, and is versatile enough that you can keep it inside as a herb garden, or outside as extra garden space.
---
Stand/Rack
Anyone who thinks gardening has to be about function rather than form has clearly never seen this great rack from Amazon.
This 3-tier stand is the perfect addition to any patio where you want a splash of color, but it can also be the ideal gift for any would-be gardeners currently living in an apartment or with very little garden space.
With a slim design, this rack makes a great addition to a balcony, patio, or deck.
It's not too big and won't take up too much space, but it's big enough to give you a wide range of planting options.
---
Signs for garden
Slate Signs
Keeping your garden well-organized is a necessity, especially if you're growing lots of different herbs or vegetables, and it's much easier with garden markers like these.
The sleek, timeless slate design fits with any garden, and they come unlabelled so you can pick and choose which plants you want to identify.
Most of the reviews recommend using a paint pent o write on the slate so your labels don't get washed away in the rain, which you can pick up here.
These garden marking signs come with a unique H shaped leg for stability – unlike a simple metal rod, which gets blown around or twisted in the wind, these signs will stay put, no matter the weather!
---
Bamboo Signs
If you don't feel like the dark slate goes well in your garden, there are also these bamboo garden labels available.
These are the eco-friendly answer to plastic plant tags – there's no plastic involved at all, in the tags or the packaging that they come in.
The bamboo is ethically and sustainably sourced, so if you're looking for a cheaper option, these are a great environmentally friendly option to look into.
---
Books on Gardening
Beginner's Guide
Given the current circumstances, many of us have been finding ourselves putting some serious work into our gardens for the first time in a long time.
For anyone who's dusting off their shovel and has no clue of where to begin to truly make their garden their own, A Beginner's Guide to Starting a Healthy Garden by Deborah L. Martin might be the best place to start.
The perfect guide for beginners, this book answers the most general gardening questions that you may have (like 'how much should I water?') and explains it in a careful, concise way.
This book covers all of the necessary topics surrounding gardening, including irrigation, potting, weeding, and compost questions, and explains them in simple terms so anyone can understand it.
The book also helpfully explains some of the gardening terms you may have heard before but were too afraid to ask the meaning of, to help you feel like a professional in no time!
---
The Vegetable Gardener's Bible
For a book tailored towards those with a little more gardening experience, The Vegetable Gardener's Container Bible by Edward C. Smith is a worthwhile investment.
This book goes further than A Beginner's Guide to provide you with more specific and detailed information, without being overwhelming for anyone who still isn't all that knowledgeable about the world of gardening.
This book combines the knowledge of Smith's first book – The Vegetable Gardener's Bible – and an understanding that some of us just don't have access to a big garden to create an expert guide on growing your own vegetable garden.
Perfect for anyone living in an apartment with only a window box or balcony planter, or for someone trying their hand at growing vegetables in a planter on their front porch, this knowledgeable guide makes for a great gift.
---
Bird feeder
Adding a little rustic charm to any space, this Farmhouse bird feeder is the perfect gift for any gardeners who want to keep their feathered friends fed all year long.
The intuitive design features a weight sensor perch that shuts off the seed dispenser, keeping squirrels and larger birds out – no more watching squirrels steal birdseed and scatter it all over your garden.
This bird feeder can hold 13lbs of seed, and if the birds in your garden are anything like mine, they'll be sure to let you know when it needs a refill!
---
Lanterns
What's the point in putting all that effort into your garden if you can't even see it?
These simple, timeless lanterns will help to show off all that hard work you've put in to make a beautiful garden, giving your outdoor space a lovely cozy vibe – perfect for a summer evening.
With a useful handle, so you can hang them or keep them on a table, these versatile lanterns help to add the perfect warm glow to your garden.
The lantern is 5½" x 5½" x 12¼" high.
---
Oxygenator
One of the most relaxing and aesthetically pleasing additions to any garden is a fishpond, although as many of you may be well aware already, the upkeep of a fishpond can be hard work.
This solar-powered air pump works to keep your pond oxygenated and your fish happy.
With a long-lasting energy storage that will keep your pond oxygenated overnight or on a cloudy day, and the best part is that it's easily portable – if you need to move it from your outdoor pond to your indoor fish tank, you're in luck!
---
Chimenea
With the weather warming up, we're all spending more and more time in our gardens, as they provide the perfect space to relax and unwind after a stressful day at work.
What better way to relax than beside this cast iron Chimenea?
With a rugged, worn-in design, this charming Chimenea will give a much-needed warmth boost on a chilly summer evening.
With a 360o view of the fire, this Chimenea will provide the perfect peaceful ambiance for an evening drink with friends and family.
---
Bug hotel
For the gardener who loves insects, this Insect Hotel from Amazon will provide the perfect home for any pollinators you're trying to attract!
Made with a light pine wood, the Insect Hotel is fitted with bamboo nesting tubes to provide a safe environment for any bees, butterflies, and ladybirds in the vicinity.
Providing a safe shelter, this Insect Hotel encourages pollinators to breed and settle in your garden, so it's the perfect gift: it's good for bees, and it's good for your plants.
---
I hope this article will help you find the perfect gifts for gardeners. If you have any other great ideas for gifts for gardeners, please do let me know in the comments below!